UT Austin unveils digital artwork on symbiosis
The video on the ways we survive through cooperation could hardly be timelier.
When Andrée Bober commissioned Jennifer Steinkamp to create an artwork for a University of Texas at Austin building in 2018, neither the founder and director of UT's public art program Landmarks nor the Los Angeles-based artist could have known how prescient the work would prove two years later.
The university sets aside between 1 and 2 percent of capital improvement funds for Landmarks, and the new work was to be located in the newly-renovated Welch Hall, part of the natural sciences college. Bober knew visitors would see the work from the main campus pedestrian walkway, and the college asked that natural sciences inform the artwork.
Bober weighed what would fit with nearby Sol LeWitt and Nancy Rubins sculptures. "I felt that it needed to have a strong graphic presence," she said. "I believed that something with organic forms would provide a welcome balance as a sequence of experiences across the landscape."

Jennifer Steinkamp. "Eon" (2020). Video still/Landmarks.

An artist who has long drawn inspiration from nature, Steinkamp was the unanimous selection, who checked all the boxes, according to Bober. Steinkamp suggested a work exploring symbiosis ("survival through cooperation," Bober said), and the installation "Eon" predated the current pandemic.
"Eon's themes are universal and particularly relevant in these challenging times," Bober said of the artwork, which is nearly 350 square feet and will be unveiled Sept. 10.
Here's how the Landmarks website describes the work:
In Steinkamp's installation, biomorphic shapes undulate across the screen, punctuating an aqueous backdrop with bursts of pink, yellow, and multicolored fragments. … Eon nods to the research that takes place within Welch Hall, encompassing different areas of biology, chemistry, biophysics and statistics and data sciences.
Landmarks—like most arts organizations—has been adapting programming to a new socially-distanced reality, including new self-guided smartphone tours (with artist videos) and the video exhibit "Ways of Being."
For the James Turrell Skyspace installation on campus, Landmarks launched a digital meditation. The latter experience is worthwhile, but having spent time in Skyspace in person, I highly recommend seeing it person if and when you're able.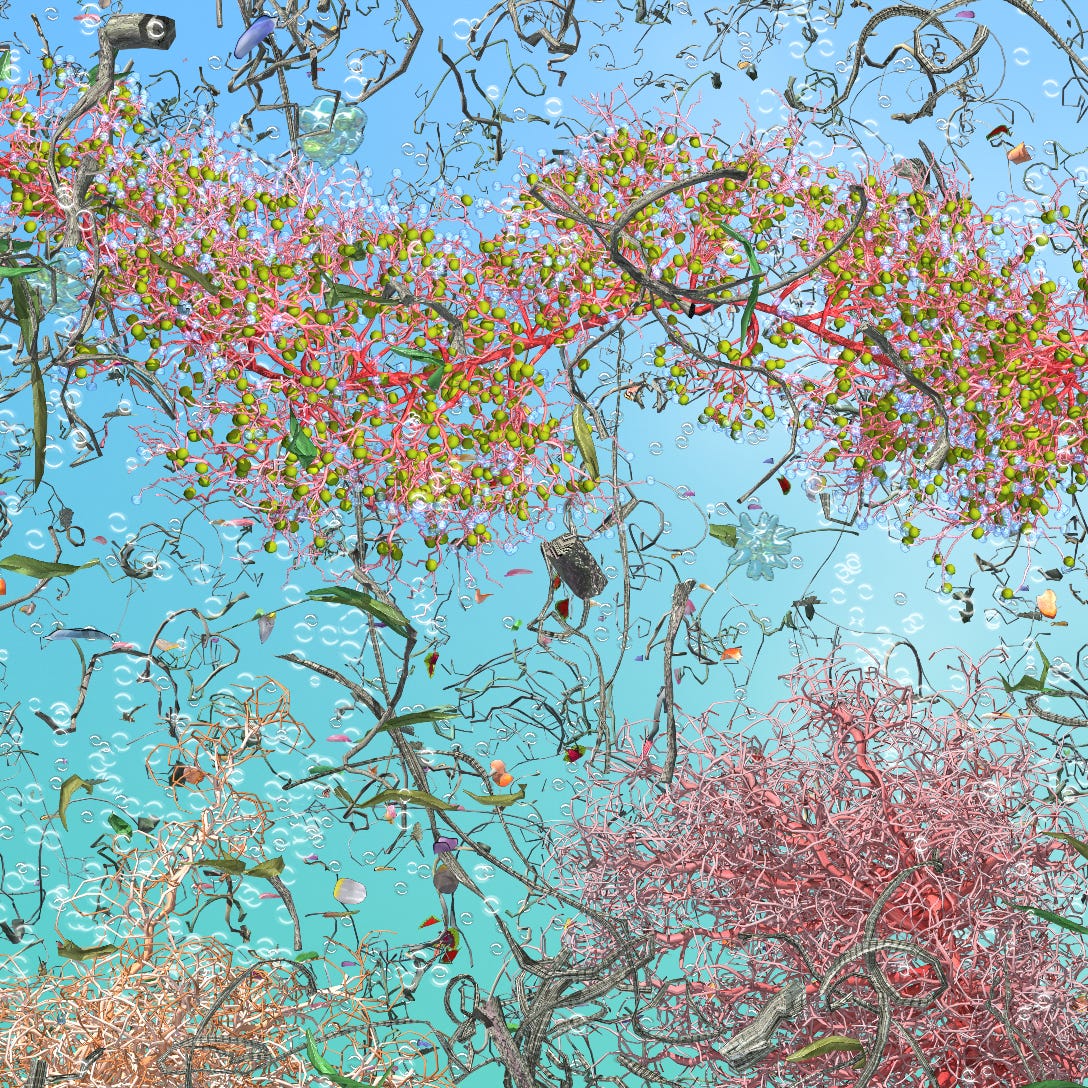 Jennifer Steinkamp. "Eon" (2020). Video still/Landmarks.

"We'll be tracking our tour usage and should have figures in the coming months," Bober said. "In the meantime, our information is anecdotal—we've spotted students and families taking the tours across campus daily."
"Eon" is the 45th work in the Landmarks collection, and as the program continues to grow and evolve, Bober hopes it will reflect increasingly the communities it serves.
"I hope 'Eon' reminds us that all life forms began through cooperation, and that by working together we can sustain ourselves and strengthen our communities," she said. "Also, a little beauty can be a comforting salve during troubled times."
Readers may be interested in my artnet article "How Hospitals Around the World Are Experimenting With the Healing Power of Art," which discusses Ann Hamilton's powerful Landmarks installation, and an interesting companion to "Why did outdoor sculpture gardens close amid the pandemic?" is Bober's comment discussing Eon that "outdoor public art can be viewed safely in its intended form."